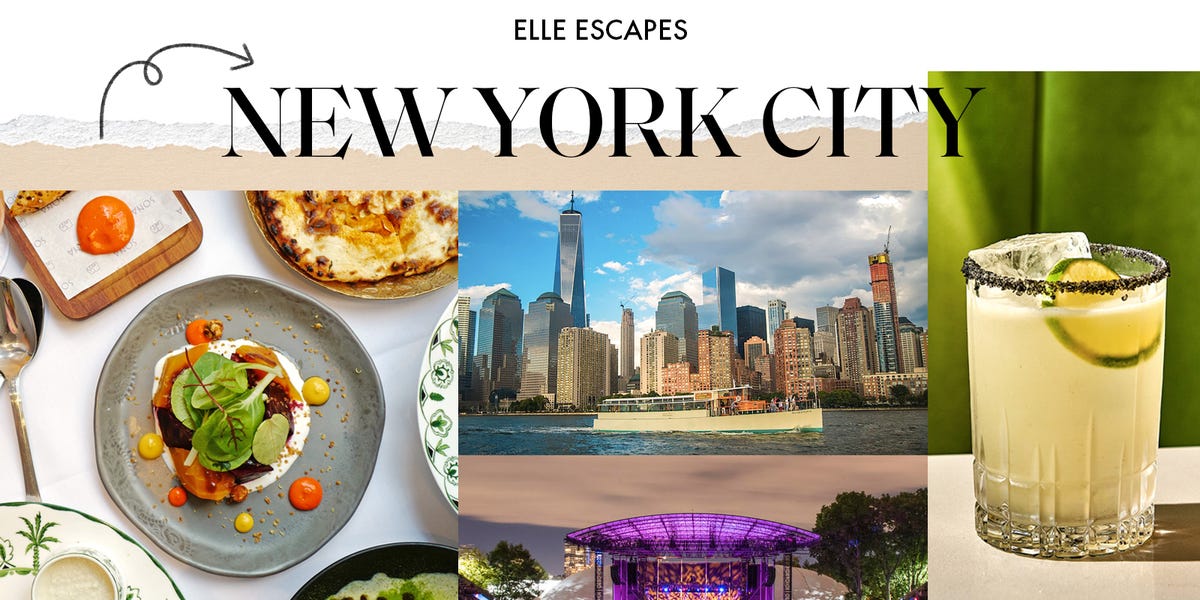 New York City Travel Guide
They say New York is the city that never sleeps, and although it took a solid nap in the last year and a half of the pandemic, the energy and frantic pace has returned with vengeance. Damn, this month alone brought us fashion week, the Met Ball, and MTV VMAs — three of the many reasons why, to quote Bill Burr SNL monologue, "New York is back, baby!" With that in mind, we've compiled a guide to the best ways to pass the time in what's universally considered the world's greatest city, especially in the fall.
The Metropolitan Art Museum: In America: a fashion lexicon
All of your favorite celebrities have visited The Costume Institute's high-profile exhibit and now you can do that too (hopefully without a crowd). In America: a fashion lexicon is a two-part sartorial study of trends across the country, and features over 100 styles for men and women from the 1940s.
Classic Harbor Line Sunset Cruise
What could be more romantic, even picturesque, than a sunset cruise aboard a yacht? Classic Harbor Line offers a plethora of non-touristy options, including rides with jazz concerts and wine and cheese pairings. (Yes, you will still be able to see the Statue of Liberty.)
Forest Hills Stadium
Originally the US Open, this historic venue now hosts concerts with the best posters like My Morning Jacket and Nas against a backdrop of tennis courts. Come for the tunes, stay for the plethora of food vendors. And if you're feeling super luxurious, opt for one of the stadium's Speakeasy Suites, complete with a private observation porch, bar, and white-clad tennis-white concierge service staff.
Kissaki
For authentic omakase miles of Japan, look no further than Kissaki. Located on the Bowery with a second outpost on the Upper West Side and a specially prepared menu at Gansevoort Rooftop, the intimate restaurant is ideal for a date night with sushi and primo sake. We recommend the 16-course flight for $ 150 because why not?
A pasta bar
An Italian-style pasta bar in downtown Manhattan? Sign us up, by favor. Highlights of A Pasta Bar's menu include cacio e pepe, squid ink spaghetti spotted with 24k gold, and wine. Lots and lots of wine. Do this one for the 'gram.
SONA
SONA marks Priyanka Chopra Jonas' first effort in the restaurant business, and it delivers on its promises. The new Flatiron spot specializes in modern Indian cuisine in a sleek, minimalist setting (it has even partnered with art consultancy Sunderlande to showcase exclusively Indian works) and has Phillip Lim, Prabal Gurung and, of course, Nick Jonas. among his fans.
City vineyard
In case you missed it, City Winery, Manhattan's resident vineyard, has opened a stylish new space at Pier 57 on the Hudson River. You'll get live music, award-winning wine, and stunning views of Little Island, which lights up impressively at night.
Ray's bar
Cheers' New York equivalent, Ray's, tucked away in a quiet corner of the Lower East Side and co-owned by Justin Theroux and Nicholas Braun, is the perfect place to order a beer and a shot and tuck into a stall for hours. time. . Eventually, you'll want to go downstairs to the new Twin peaks-inspired basement for after-hours revelry.
Dante West Village
Dante, the West Village branch of the historic Italian bar – once a staple of Ernest Hemingway and Bob Dylan – is our go-to for a cocktail with a people-watching side. We recommend the selection of negronis in particular.
The Gansevoort Meatpacking NYC
Say hello to the new and improved Gansevoort. The iconic hotel has undergone a multi-million dollar lockdown renovation and now has two new restaurants – a European-inspired cafe and pop-up sushi bar, Saishin – Banksys in the lobby, and a swimming pool on the roof recently renovated.
The Bowery Hotel
There's a reason the Bowery remains one of the city's top hotels, if only for the celebrities in the lobby. After pampering yourself around a martini by the fireside, opt for a stay in one of its plush rooms (outdoor shower on the terrace, do you mind?).
TWA Hotel
Surely you've seen the red and white hallways on Instagram, but what about the (surprisingly quiet) suites? Don't be fooled by the location of the TWA Hotel in JFK – the comfy bed, martini bar, and floor-to-ceiling windows will make you feel like you've transported back to the 1960s in the best possible way.